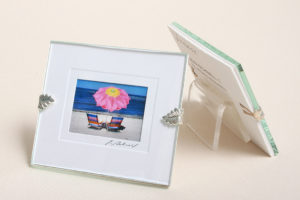 These "small treasures" are a distinctive collection of my original photography, including many beach scenes, nature subjects, lighthouses, landmarks, flowers, travel destinations, and my very popular sandwritings. They are a reminder of the joy of living.
Each piece is uniquely framed with a debossed matte, polished glass, silver leaf, plexiglass easel, and measurers approx. 2-3 inches square.
Perfect for that special gift…for a friend, for yourself, for a family member, wedding favors, stocking stuffers, or just to say…I love you.
The mini photos are $20 each (S&H included). Purchase on this website at jeanschnellphotography.com/site/mini-photos/
Contact Jean if you have any questions or a custom order
Email: jeanschnellstudio@gmail.com
Phone: (216) 269-2951
Visit me and see over 200 images!     I'll be at the Chagrin Falls Art Festival – June 10, 10-7, and June 11, 10-5   Hope to see you!